surface protections and special resins
gelcoat and film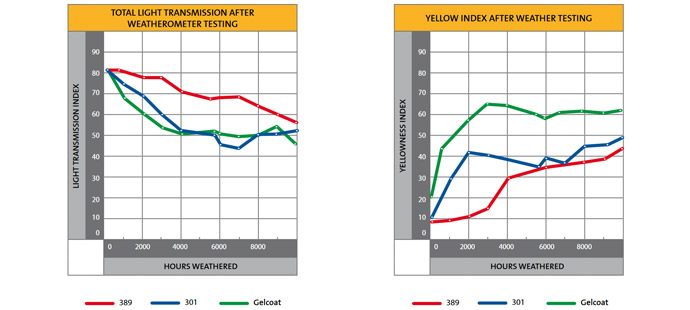 GELCOAT
The Elytop sheets and rolls are protected externally with gelcoat resin applied during the lamination phase. This protection, which is particularly stable against atmospheric agents and mechanical stress, ensures that the Elyplast products retain their structure and functional integrity over time. On request, they can be produced with UV-stabilised polyester resin.
POLYESTER FILM (TYPE 301)
The Elyplast sheets are protected with a special polyester film, which gives the fibreglass laminates an armour on the surface, ensuring high resistance to atmospheric abrasion and preventing the glass fibres from rising to the surface.
ANTI-UV POLYESTER FILM (TYPE 389)
The sheets can be made of UV-stabilised polyester resin and protected with Melinex 389 film on both surfaces. This protection is particularly resistant against UV agents, such to guarantee that the sheets retain their original functional and aesthetic characteristics over time, and preventing abrasion/erosion of the surface and slowing down the process of yellowing and loss of light transmission.
RESIN WITH FLAME RETARDANT
The fire resistance performance of Elyplast can be improved by resin with flame retardant.