Big six clear GRP fibreglass roofing sheets by Brianza Plastica
A perfect solution for GRP roofing, both in the translucent and opaque version
For roofing applications, Brianza Plastica proposes big six clear GRP fibreglass roofing sheets in different translucent colours: the ideal solution to realize perfect skylights. The excellent mechanical resistance and diffused light passage make the Elyplast GRP translucent roofing sheets the ideal solution to realize skylights in agricultural and industrial buildings.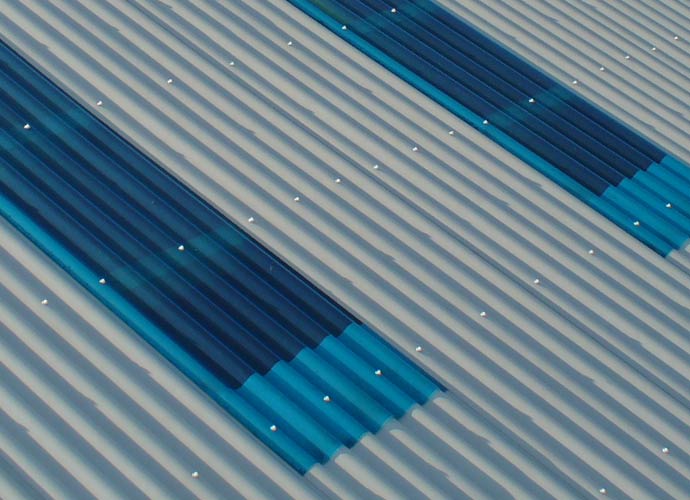 On request, additional protections such as Melinex – standard or anti-UV – or gelcoat can be added. Elyplast GRP opaque roofing sheets are widely used as roofing for stables, agricultural and industrial buildings as an alternative to concrete and metal sheets, thanks to their extreme easy handling and resistance to corrosive agents. The gray version easily reproduces the same aesthetic aspect of concrete slabs, since it has the same waving and colour. Some of the most important characteristics of these fibreglass roofing sheets are their high mechanical and chemical resistance, together with the extreme manageability which facilitates working at height. Another aspect of these GRP sheets is their low coefficient of thermal expansion, which is essential during the summer season and in territories where high temperatures can be easily reached.
A wide choice for roofing and cladding
Big six clear GRP fibreglass roofing sheets are among the numerous profiles proposed by Brianza Plastica as leader manufacturer of fibreglass laminates. The Company, which has produced FRP laminates in sheets and rolls since 1962, is highly specialized in this sector and it's able to satisfy the most varied requests for roofing and cladding of any type of building. Elyplast fibreglass sheets are available in a wide range of corrugated and ribbed profiles, compatible with most of metal sheets and concrete profiles. Brianza Plastica sells and delivers its fibreglass flat laminates in rolls and sheets all over the world.
Big six clear GRP fibreglass roofing sheets: the best alternative to concrete and metal sheets for roofing
Glass fiber reinforced plastic is very light and, at the same time, extremely strong and dimensionally stable. These are some of the main reasons why it is increasingly used for the construction of roofs. This product, unlike metal sheets, is not susceptible to rust and it lasts a very long time.
Other insights on GRP fibreglass roofing sheets
Check out this section to get additional information about GRP fibreglass roofing sheets, so you can choose the most suitable product for your needs.
Contact us for our products
If you are interested in GRP roofing sheets, do not hesitate to contact us for any request or suggestion. Brianza Plastica is willing to meet specific demands.
CONTACT US