Brianza Plastica offers an FRP sheet for the most assorted needs of the market
Straight, corrugated or ribbed, translucent or opaque: the GRP sheet satisfies various uses, even on extreme conditions
Since its birth, Brianza Plastica has perceived the benefits of fiberglass material; in fact, this product has a lot of tangible advantages comparing with plastic components. For this reason, during the years, the company continued to focus its attention on the production of the FRP sheet and roll.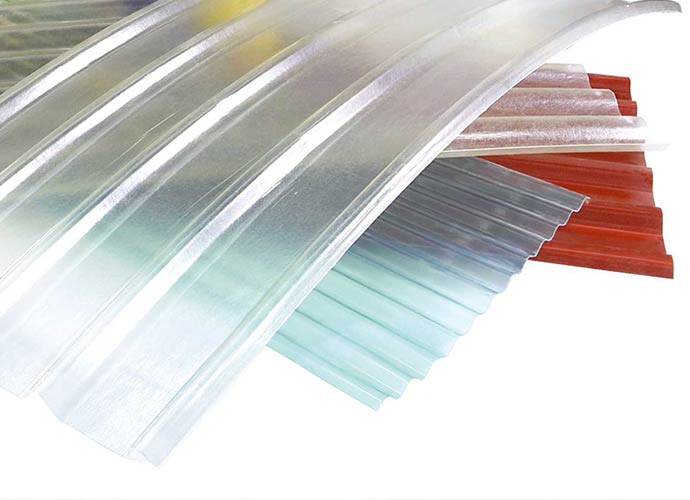 From a technical point of view, the main benefit of fiberglass, compared to PVC and other plastics materials, is the temperature range which goes from -40°C to +120°C: this is an extraordinary advantage above all during summer when high temperatures can be reached in specific geographic areas. Moreover, the fiberglass has an elevate mechanical resistance and a low coefficient of thermal expansion; these features together ensure stability and durability, even in extreme weather conditions. The resistance to chemical agents is an additional aspect of FRP sheets: the fiberglass withstands acids, like benzol, ethyl alcohol, sulphoric acid and ammonia, better than other plastic materials. The ammonia, for example, is heavily present in animal's urine; this encourages farmers and breeders to prefer GRP sheets and rolls for their agricultural buildings and breeding farms. Finally, also the wide range of products is added to their criteria for choosing GRP sheets and rolls.
Elyplast FRP sheet: hundreds of profiles to meet the most varied requirements
Brianza Plastica GRP sheets are manufactured using polyester resin and fiberglass reinforcement. Elyplast is orthopthalic resin based, stabilized against UV rays and low shrinkage.
Among straight sheets, corrugated and ribbed sheets can be differentiated; they are both available in the natural clear version or the colored one. However, three different shapes of corrugated sheets are produced and they are mainly used for roofing, translucent walls and discontinuous skylights on pitched roofing; instead, the ribbed ones are proposed in a wide range of different profiles to be combined with metal sheets to create skylights. Moreover, the GRP straight corrugated sheet may be protected in its external surface with a gelcoat layer (a special resin against weather abrasion which delays the yellowing process and the fiberglass surfacing process) or with special protection films like Melinex 301 or Melinex 389, whereas the GRP straight ribbed sheet can be externally protected with Melinex 301 or Melinex 389.
Despite the company offers hundred profiles, the following ones are the major used and requested by the market:
RN076, RN146 and RN177 for a corrugated GRP sheet
RN117, RN118, RN183, RN274, RN418 and RN454 in case of a ribbed FRP sheet
Total opacity and maximum resistance for Elyonda FRP sheet
Elyonda FRP sheet is a corrugated or ribbed opaque sheet made of polyester resin reinforced with fiberglass and loaded with alumina; it is produced using an isopthalic anti-UV gelcoat applied to the surface exposed to weather corrosion. Its main additional advantages, compared to Elyplast GRP sheets, are:
100% opacity;
optimal fire reaction: Class 1 (Italian Ministry approval) – D.M. 26/06/84 D.M. 03/09/01;
easier handling compared to metal sheets;
low noise transmission in case of rain.
R146 and R177 are the most used profiles, they are perfectly designed to be used in all types of roofs and ceilings of new buildings and partial or total restructuring projects. Elyonda GRP sheets are available in grey (light and dark), green and brick red but other colours may be requested.
Other insights on our FRP sheet
Check out this section to get additional information about the GRP sheets, so you can choose the most suitable product for your needs.
Contact us for our products
If you are interested in the FRP sheet, do not hesitate to contact us for any request or suggestion. Brianza Plastica is willing to meet specific demands.
CONTACT US