GRP sheets for roofing of every kind are a great choice
Fiberglass sheets: the ideal solution for roofing in industrial and agricultural buildings
Brianza Plastica is one of the biggest GRP laminates manufacturers in the world and it started its production back in 1962.
Brianza Plastica GRP straight sheets are available in a wide range of profiles which reflects and match with the most diffused shapes of the metal elements used for roofing and for continuous and discontinuous skylights on pitched roofs. Elyplast GRP sheets for roofing are available in more than 500 profiles, in different weights, thicknesses and colors. They can be translucent or opaque: in this last version, they come out with the name of Elyonda. Moreover, Brianza Plastica fiberglass sheets for roofing can be both ribbed and corrugated.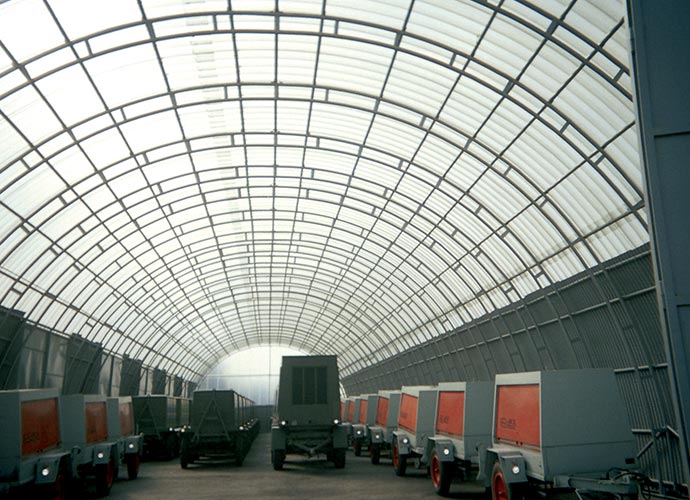 Benefits and applications of Elyplast fiberglass sheets
Elyplast fiberglass sheets are very frequently used to realize roofing both in zootechnic and in industrial applications. Elyplast sheets, in the translucent version, ensures UV protection and an optimal and uniform daylight diffusion. The opaque version of GRP sheets Elyonda is realized applying a special gelcoat layer which guarantees a better performance in terms of resistance to abrasion, atmospheric agents and UV rays. Therefore, the excellent mechanical resistance and diffused light passage make Elyplast GRP translucent roof sheets the ideal solution to create greenhouses and skylights and Elyonda GRP opaque sheets version a great option for the realization of roofing for stables and agricultural buildings as an alternative to concrete and metal slabs.
These are the following main advantages of Elyplast GRP sheets:
UV protection
mechanical resistance
chemical resistance
low coefficient of thermal expansion
long lasting
lightness
easy manoeuvrability
A wide range of GRP sheets for different roofing solutions
Brianza Plastica fiberglass sheets for roofing, in their ribbed or corrugated versions, can be used in infinite applications, from agricultural and industrial roofs and vertical partitions to greenhouses, pergolas, verandas, tool sheds, fences and any type of coverings, up to the realization of lamellar packs for water filtration. Moreover, Elyplast GRP sheets are also used to realize the interior side of sandwich panel for roofing and chimneys for stables.
Other insights on GRP sheets
Check out this section to get additional information about GRP sheets for roofing, so you can choose the most suitable product for your needs.
Contact us for our products
If you are interested in GRP sheets for roofing, do not hesitate to contact us for any request or suggestion. Brianza Plastica is willing to meet specific demands.
CONTACT US