GRP sheets for skylights for agricultural and livestock farmers
The choice is based on the benefits of GRP
Today, a lot of agricultural and livestock farmers select Brianza Plastica GRP sheets for skylights of their buildings thanks to the advantages offered by the fiberglass material. The fiberglass withstands up to 140°, doubling the capacity of other plastic products like PVC. The low coefficient of thermal expansion is another essential aspect of this material, above all in summer or in territories where high temperatures can be reached.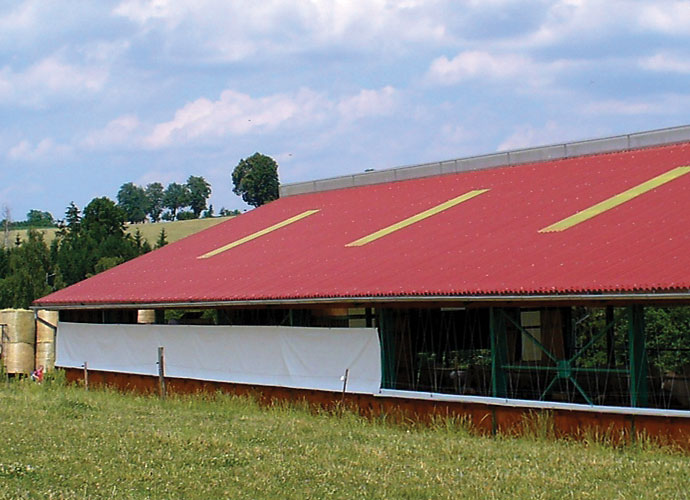 Both features, together with the characteristics of GRP sheets, complete the choice of farmers. Brianza Plastica FRP sheets for skylights provide effective daylighting without unsightly glare. They also offer a high-effective result and a better living environment for animals and plants. FRP sheets for skylights can then be used in conjunction with concrete metal slabs or other corrugated sheets, materials which are normally used for the construction of roofs.
GRP sheets provide an excellent impact-resistance to atmospheric agents together with lightweight which guarantees an easy moving, a fast installation and a simple maintenance.
Corrugated or ribbed straight sheets for skylights of buildings
Brianza Plastica offers both corrugated or ribbed straight sheets as solutions for skylights of buildings. Like any GRP sheet produced by the company, also GRP straight sheets for skylights are characterized by:
a good UV protection
a high mechanical and chemical resistance
a long durability
a good lightness
an easy maneuverability
Elyplast straight sheets are available in different lengths and different corrugated as ribbed profiles adapting the final product to the requests of the different clients.
Elyplast corrugated and ribbed sheets for skylights can be curved (within certain limits) during the installation to better adapt to roofs which are not flat, but circular or semi-circular.
The right surface protection for GRP straight sheets for skylights
The Elyplast GRP sheets for skylights are produced using UV stabilized resins and can be proposed with the additional protection of gelcoat or of special protections films (melinex301 or anti UV melinex389). According to the customer needs, the company will be able to suggest the best surface protection.
Other insights on GRP sheets for skylights
Check out this section to get additional information about GRP sheets for skylights, so you can choose the most suitable product for your needs.
Contact us for our products
If you are interested in GRP sheets for skylights, do not hesitate to contact us for any request or suggestion. Brianza Plastica is willing to meet specific demands.
CONTACT US