Fibreglass roof sheeting by Brianza Plastica: the ideal solution for your building
Elyplast fiberglass straight sheets are the best solution for roofing in industrial and agricultural buildings
Each Elyplast fibreglass roof sheeting is produced in continuous lamination with a stratification of polyester resin and fibreglass reinforcement (GFRP). Brianza Plastica, with its 4 production sites dedicated to the production of fiberglass laminates, is one of the main manufacturers of this kind of products. Brianza Plastica's range of fibreglass roof sheetings is really wide and it's is able to satisfy every customer need: it includes more than 500 profiles, different weights and colors, ribbed or corrugated shapes, both in translucent and opaque finishing. In addition, Elyplast sheets can be UV protected.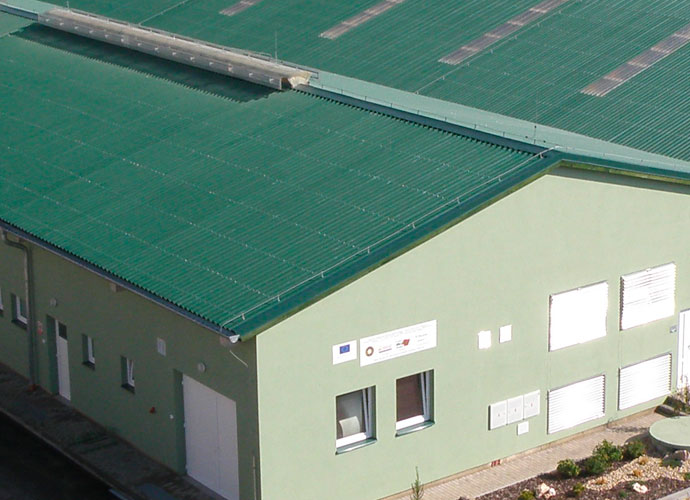 Elyplast GRP sheets are the ideal solution for roofing, thanks to their good mechanical resistance, durability, lightness and easy workability.
Fibreglass roof sheeting: the best alternative to metal sheets for roofing
Elyplast GRP opaque sheets are widely used for industrial and agricultural buildings as an alternative to concrete and metal sheets thanks to their extreme ease of handling and resistance to corrosive agents.
Fibreglass straight sheets for roofing are an interesting alternative to metal slabs for the following reasons:
No rust
Better resistance to acid
Lighter weight
Lowern noise
Durable and long lifespan
Elyplast GRP straight sheets are suitable for frequent washing: they are easily washable with a pressure washer, for a clean and hygienic environment.
Elyplast fiberglass straight sheets: translucent and opaque finishing
Elyplast sheets are available both in the translucent and opaque version. Elyplast translucent straight sheets for roofing ensures optimal and uniform light diffusion. They can be easily matched with the opaque version to realize skylights both in agricultural and industrial buildings.
Elyplast opaque straight sheets for roofing, named Elyonda, are reinforced with fibreglass and loaded with aluminium, for optimum mechanical resistance; an isophthalic, anti-UV gelcoat is applied on the surface exposed to atmospheric agents, to ensure a high degree of resistance to abrasion.
Other insights on fibreglass roof sheeting
Check out this section to get additional information about any fibreglass roofing sheeting produced by Brianza Plastica, so you can choose the most suitable product for your needs.
Contact us for our products
If you are interested in fibreglass roof sheeting, do not hesitate to contact us for any request or suggestion. Brianza Plastica is willing to meet specific demands.
CONTACT US