The complete Brianza Plastica proposal for GRP roofing
Sheets and rolls: the company has developed a wide range of solutions for GRP roofing
According to the application, Brianza Plastica suggests specific GRP sheets and rolls for the building of fiberglass roofing. As leader manufacturer of fiberglass laminates, the company offers a wide variety of profiles and GRP colored as translucent sheets and rolls to be in harmony with the construction as a whole. Elyplast GRP sheets and rolls for roofing can be applied in different application fields thanks to their lightness, ease of installation, simplicity of cleaning and two other important aspects: a higher chemical resistance, compared to roofing products, and an elevate temperature resistance. In fact, fiberglass as material withstands up to 140°, doubling the capacity of other plastic products such as PVC; this last aspect together with a low coefficient of thermal expansion are essential above all during summer and in territories where high temperatures can be reached during specific periods of the year.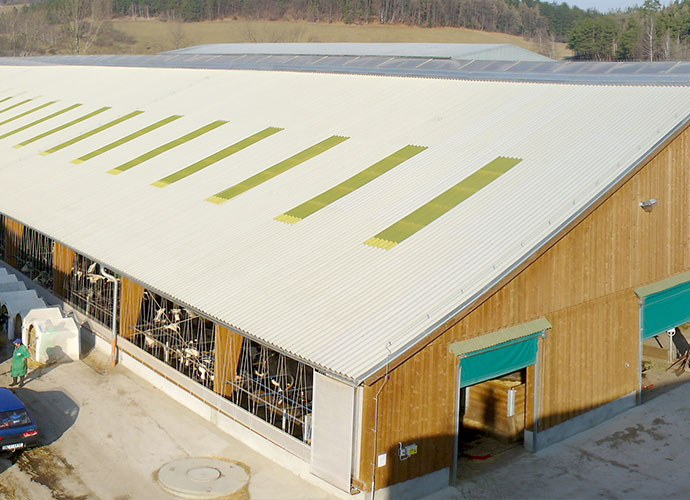 The application of Brianza Plastica fiberglass sheets for roofing
The main application fields of Brianza Plastica GRP sheets roofing are agricultural and industrial buildings, zootechnic sector and DIY one. Brianza Plastica GRP sheets are widely applied in construction of GRP roofing for stables, agricultural and industrial buildings, garden and tool sheds because of the resistance to chemical and atmospheric agents and to corrosion. Elyonda opaque GRP sheets are an excellent alternative material to concrete or metal slabs thanks to lightness and a higher chemical resistance. Their mechanical resistance and the diffused passage of light make Elyplast GRP sheets perfect to create skylights and roofing for greenhouses. To better satisfy these specific applications, Elyplast sheets are available in a wide range of corrugated and ribbed profiles, compatible with most of the Italian and European sheet metal profiles.
Fiberglass rolls application for roofing
Brianza Plastica offers two types for fiberglass rolls:
GRP corrugated rolls: available in a wide range of colours, widths and lengths, they are mainly used for GRP roofing, but other applications, such as fences or vertical plugging, may be considered;
GRP flat rolls: available in the same weights and colour ranges of the previous ones, they are particularly suitable for vertical plugging like doors, windows and vertical closures, thanks to their resistance to breakages and accidents.
Focusing on the GRP roofing application, the Elyplast fiberglass corrugated rolls are used as a roofing element for single or double pitched greenhouses and tunnel greenhouses. In fact, their excellent handling, mechanical resistance and light passage make them perfect for these types of applications. Moreover, their different heights and lengths allow to create continuous solutions, preventing possible lateral overlaps: this is an essential aspect for the roofing construction, too.
Other insights on GRP roofing
Check out this section to get additional information about GRP roofing, so you can choose the most suitable product for your needs.
Contact us for our products
If you are interested in GRP roofing, do not hesitate to contact us for any request or suggestion. Brianza Plastica is willing to meet specific demands.
CONTACT US