GRP flat rolls and fiberglass corrugated rolls produced by Brianza Plastica
The company manufactures both products since 1962
Brianza Plastica, one of the most qualified realities in the civil and industrial roofing and insulation sectors, counts 5 production sites distributed over the national territory, a trading company in France and a commercial logistic site in the USA. Even though today's presence sweeps from building to vehicle sectors, passing through the agricultural one, the current range of new and innovative products has been made possible to the company after its first move in the market with Elyplast range of sheets and rolls, in 1962. Among Brianza Plastica products, GRP straight or curved sheets and fiberglass corrugated or flat rolls remain the successful solution for many applications in industrial, agricultural and DIY sectors worldwide.
In this brief text, the characteristics of GRP rolls and their application fields will be examined in depth.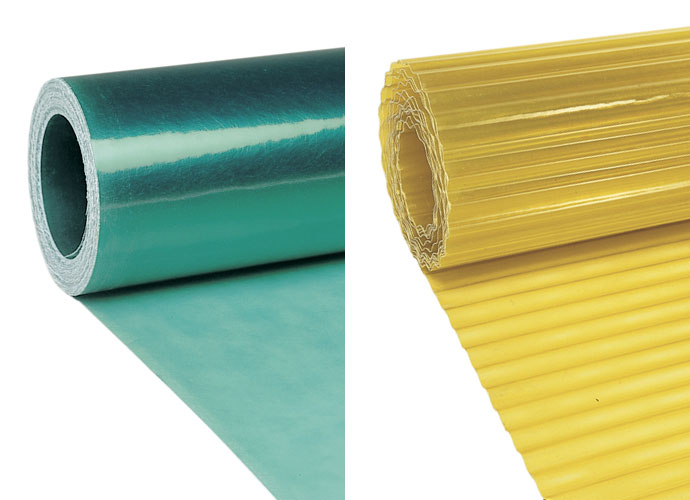 GRP corrugated and flat roll laminates
The range of Brianza Plastica GRP rolls consists of corrugated and flat rolls. Corrugated rolls have a profile similar to the zinc-coated sheets; they are available in clear translucent and other colors on request and they range from a width of 0.5 to 3m, up to a maximum of 40m in length. Corrugated fiberglass laminates are made of orthophtalic resins, even though special resins are at customer disposal. GRP flat rolls are available in the same range of colors and dimensions; what differ from the previous ones is the shape and hence the different application fields.
Independent of the type of rolls, corrugated or flat ones, the company pays the utmost attention to packaging and shipping. Packaging, handling and storage methods are simple and clear. Once they are individually packaged with cardboard and protective stretch film, they travel freely inside the transport vehicle or arranged on pallets. When they arrive at destination, the company recommends unloading the product with suitable lifting equipment or handling by hand, one sheet at a time, in order to avoid accidental impacts and abrasions that could compromise aesthetic and functional characteristics. Storage process must be followed in a careful way as well: if the material is stored outdoors, Brianza Plastica suggestion is to protect fiberglass corrugated or flat rolls by sun and rain using tarpaulins.
Application fields of GRP flat and corrugated rolls
Elyplast corrugated and flat rolls represent a good alternative to fiber cement and metal sheets, thanks to GRP corrosion resistance. They are the suitable solution for the following application fields: agricultural and industrial buildings, farms and greenhouses, DIY projects, lamellar filters for water treatment, tunnels or covered walkways.
According to the type of application, Brianza Plastica suggests:
GRP corrugated rolls for the construction of roofing, curtain walls, fencings and canopies
GRP flat rolls in case of door, window and vertical closure realizations where durability is essential to prevent against breakage and accidents.
The ease of installation and simple handling, together with their plenty application fields, make Elyplast rolls a successful and ideal product for decades. A particular and interesting use of Elyplast rolls is in prefabricated building: their quick and ease cutting to size with standard tools, together with their flat or corrugated, translucent or opaque finishing, meet a wide range of construction requirements.
Other insights on GRP flat rolls
Check out this section to get additional information about GRP flat rolls, so you can choose the most suitable product for your needs.
Contact us for our products
If you are interested in GRP flat rolls, do not hesitate to contact us for any request or suggestion. Brianza Plastica is willing to meet specific demands.
CONTACT US