GRP sheets for large variety of application fields
In their ribbed or corrugated version and translucent or opaque finishing, GRP sheets satisfy the most various uses, as roofing or curtain wall
Elyplast GRP sheets are manufactured by continuous lamination of glass fiber reinforced polyester resin (GRP). The standard version of Elyplast fiberglass sheets is based on carefully selected orthophthalic resins with reduced styrene content and stabilized against UV rays. On request, they can be produced with enriched resins with flame retardant. Moreover, PRFV is a thermosetting product.
Elyplast GRP sheet is a very versatile product which suits many applications, sometimes in very demanding conditions, such as roofs and skylights for industry. They can be also applied in roofing and cladding for agriculture, greenhouses, porches, awnings, coverings and lighting.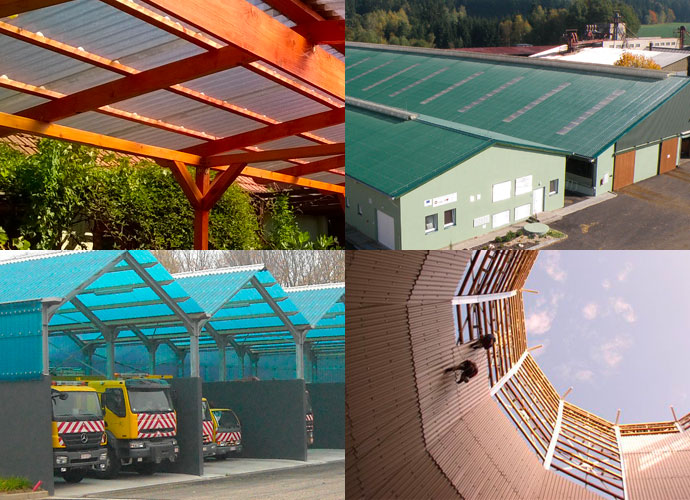 Thanks to their corrosion resistance, Elyplast FRP sheets are used for equipping water treatment plants and on the roofs of composting plants. Moreover, they are also used in the environment of zinc production and tannery.
The length of GRP sheets, especially for roofs, can be equal to the roof section, otherwise overlaps must be used. Elyplast fiberglass sheets are produced both in translucent and opaque version, ribbed or corrugated, in a wide range of profiles. Elyplast translucent sheets give the environment a completely new diffused light and comfort, together with a high mechanical and chemical resistance, for a very long lifetime.
Corrugated straight GRP sheets
Elyplast corrugated straight sheets are available in a large number of profiles and in natural clear as standard color. However, other colors are available on request. Elyplast corrugated GRP sheets can be curved within certain limits, especially for not perfectly flat roofs as circular or semi-circular ones, as in the case of tunnel greenhouses.
Ribbed straight GRP sheets
Thanks to the wide range of available profiles, Elyplast ribbed GRP sheets can be coupled to other sheets in order to create skylights. In their opaque version, Elyplast ribbed FRP sheets can even represent an excellent alternative to metal sheets as they do not rust and, in general, they have a good corrosion resistance, besides the fact that fiberglass sheets are lighter than metal sheets and, therefore, they're easier to install.
Other insights on GRP sheets
Check out this section to get additional information about GRP sheets, so you can choose the most suitable product for your needs.
Contact us for our products
If you are interested in GRP sheets, do not hesitate to contact us for any request or suggestion. Brianza Plastica is willing to meet specific demands.
CONTACT US