GRP opaque sheets bring to growth and development
Brianza Plastica GRP straight opaque sheets are the perfect solution for multiple application fields
"The evolution of ideas always brings with it growth and development", this has definitely been the concept behind the development and the introduction of GRP opaque sheets in Brianza Plastica range of products. Thanks to intuitions and willpower, the Company has been able to evolve the traditional GRP translucent sheets to create a range of GRP opaque sheets that accommodate the needs of multiple application fields, from industry and agricultural sectors to the DIY one.
Thanks to the introduction of these sheets, Brianza Plastica has been able to satisfy needs and requirements that had previously remained unfulfilled; in many environments, in fact, GRP opaque sheets result a better alternative to steel. In addition, their 100% opacity and their wide array of colors together with mechanical and chemical resistance, lightness and easy handling compared to metal sheets complete the characteristics and advantages of this product.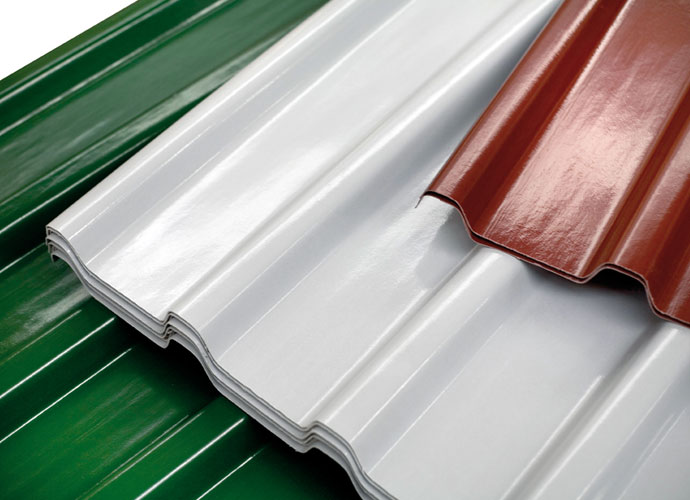 Total opacity and maximum resistance thanks to Elyonda sheets
Among Brianza Plastica range of products, Elyonda GRP straight opaque sheets play a crucial role. They are the perfect solution for the construction of roofs, vertical curtain walls and false ceilings in industries, farms and agricultural buildings where total opacity and maximum resistance are strongly recommended. Elyonda sheets meet any kind of requirements both in new structures and in partial or complete renovations; available in corrugated and ribbed versions, they are made of polyester resin reinforced with fiberglass and filled with alumina. They are made using isophthalic resin with an anti-UV gelcoat on the outside surface, in order to resist against atmospheric pollutants, better react to shock and ensure structural and functional integrity of the sheets over time.
Elyonda LT / XLT, the brightly colored sheets for DIY
To satisfy the requests of the DIY sector, Brianza Plastica proposes Elyonda LT and Elyonda XLT sheets; their smaller sizes permit to be easily handled alone, without any additional support and without the requirement of any specialist tools. Available in green, brick red and light grey (other colors are available too), these sheets are normally used for the construction of pergolas, veranda, gardening, hobby tool or sheds.
Elyonda LT and Elyonda XLT differ from each other in the protection material:
- Elyonda LT are GRP opaque sheets protected with polyester film;
- Elyonda XLT GRP straight opaque sheets have a layer of gelcoat as protection element.
Both these sheets supply a high resistance to atmospheric abrasions and limit the surfacing of the fiberglass.
Other insights on GRP opaque sheets
Check out this section to get additional information about GRP opaque sheets, so you can choose the most suitable product for your needs.
Contact us for our products
If you are interested in GRP opaque sheets, do not hesitate to contact us for any request or suggestion. Brianza Plastica is willing to meet specific demands.
CONTACT US