FRP sheets manufacturer Brianza Plastica is a global partner
The Group has about 60 years of experience as GRP sheets manufacturer
Brianza Plastica began its production of GRP laminates (sheets and rolls) in the far 1962. The first applications were related to the construction of roofs, cladding, tunnels, canopies and skylights, in industrial and agricultural fields. During the following years, a new product line, related to insulation panels, has been introduced. New production sites were born in Italy and commercial branches in France and USA, to support Brianza Plastica in becoming an excellent FRP sheets manufacturer.
The high quality and the wide range of its FRP sheets and polyester rolls helped to reach this position in the market: chemical and mechanical resistance, lightness, easy maneuverability and long-lasting performances are some of their most important features. All these aspects led Brianza Plastica products to be applied in a large variety of application fields, from agricultural and industrial buildings, cooling towers, greenhouses and tunnels, to the realization of lamellar packs for water filtration and infinite applications in the DIY sector.
A wide range to satisfy every need
As a FRP sheets manufacturer leader, Brianza Plastica has always thought to expand its range of products to better meet and prevent market needs.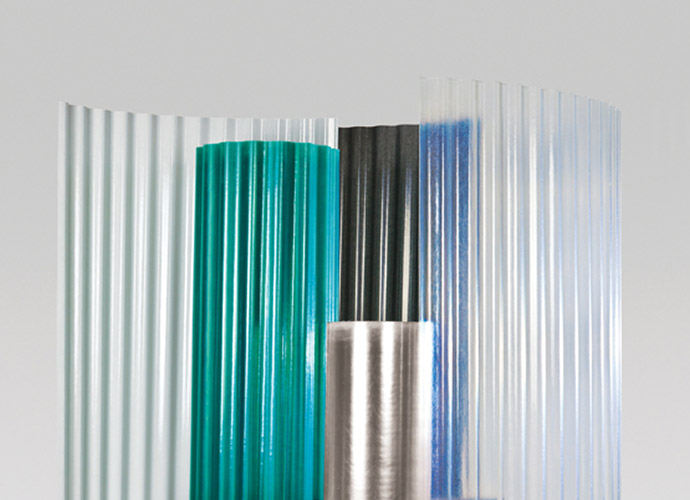 As GRP sheets manufacturer, the company has developed a complete range of products to supply agricultural and industrial buildings. Indeed, Elyplast products are extremely versatile and adaptable to different applications.
Elyplast GRP sheets are the ideal product for farms and agricultural constructions thanks to their mechanical and chemical resistance, lightness and ease of handling. Fiberglass sheets are used in the roofs of industrial buildings, as an alternative to concrete and metal slabs, and in vertical curtain walls, while corrugated sheets or GRP corrugated rolls are widely used as a roofing element for greenhouses with one or two pitched roofs, tunnel greenhouses and mushroom houses. Finally, fiberglass rolls are widely used by DIY enthusiasts to make pergolas, verandas, any type of covering, tool sheds and fences.
Other insights on FRP sheets and rolls
Check out this section to get additional information about Brianza Plastica as FRP sheets manufacturer, so you can enter the company's world and find the right product for your needs.
Contact us for our products
If you are interested in Brianza Plastica as FRP sheets manufacturer, do not hesitate to contact us for any request or suggestion. We are willing to meet specific demands.
CONTACT US