GRP opaque sheets - elyonda
Corrugated or ribbed GRP opaque sheets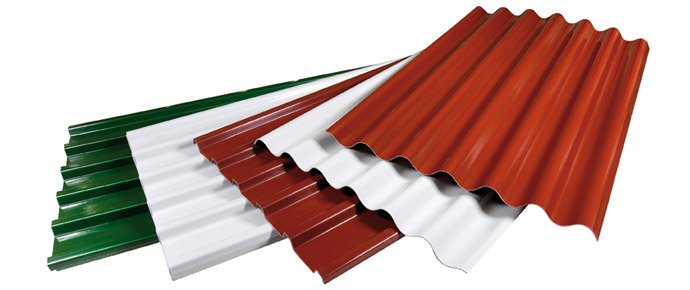 Elyonda are corrugated or ribbed GRP opaque sheets made of polyester resin reinforced with fibreglass and filled with alumina.
The Elyonda GRP sheets are made using exclusively isophthalic resin with an anti-UV gelcoat applied on the surface exposed to atmospheric agents, resulting in a high degree of resistance to abrasion. The Elyonda sheets are light, resistant and durable and can meet any requirement of roofs, vertical curtain walls and false ceilings, allowing the widest design freedom when working on both new structures or on partial or complete renovations.
Main advantages:
100% opaque
Outside surface gelcoat protected
High resistance to chemical agents
Easier handling compared to metal sheets
Low noise transmission when raining
Elyonda GRP corrugated sheets
Elyonda GRP ribbed sheets
TECHNICAL SPECIFICATIONS
VALUES
Opacity
100% opaque
Weight
3,2 - 3,5 - 3,8 - 4,2 kg/m²
Temperature range
- 60 °C + 140 °C
Fire reaction
Elyonda ≥ 4,2 kg/m²
C S3 D0
Broof(t1)
EN 13501-1
EN 13501-5
M2/M3
NF P.92.507
Coefficient of linear thermal expansion
2-2,5 x 10⁻⁵ C⁻¹
Water absorption
0,2% after 48 hours of immersion
Colours
grey (light and dark), green, brick red (others on request)

Contact us for our products
If you are interested in GRP opaque sheets - Elyonda, do not hesitate to contact us for any request or suggestion. Brianza Plastica is willing to meet specific demands.
CONTACT US