GRP roofing sheets are suitable for covering all buildings
Our selection of GRP roofing sheets
Brianza Plastica has been producing a wide range of GRP roofing sheets for about 60 years and it's one of the most qualified companies in lamination field.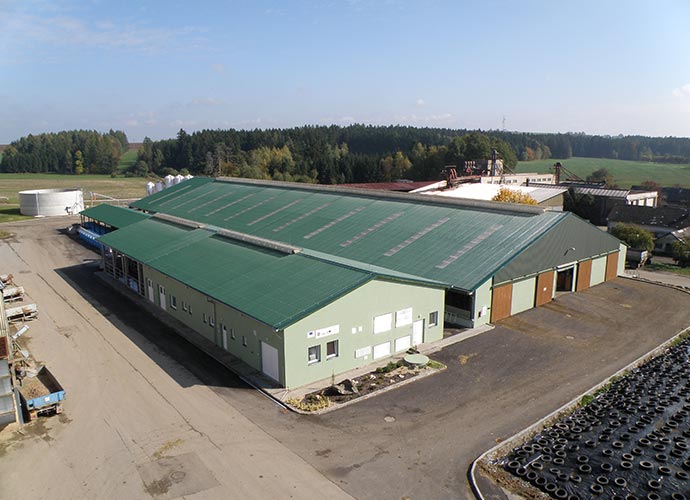 Our wide offer meets all clients' needs, since products can be realized according to their requests. As a matter of fact, GRP roofing sheets are available in more than 500 profiles, in different weights, thicknesses and colors. Moreover, they can be curved or straight (self-curving, anyway), ribbed or corrugated. Finally, the choice includes both the translucid and the opaque version of GRP sheets for roofing. The former is part of the Elyplast product range, the latter is part of polyester sheets Elyonda or Elyonda XLT product range according to the agricultural and industrial use or DIY use, respectively.
Reliable benefits of the product
The versatility and the better performance of GRP roofing sheets, compared with the ones realized with other materials, is due to their main features.
The above-mentioned translucid version ensures an optimal and uniform daylight diffusion. On the other hand, the opaque version of GRP sheets can be realized applying a special film or a layer of gelcoat which guarantee a better performance in terms of resistance to abrasion, atmospheric agents and UV rays.
Anyway, here's a list of the main advantages of all our laminates:
mechanical and chemical resistance: polyester slabs withstand all weather conditions, acids or chemicals and corrosion;
low coefficient of thermal expansion, that is heat and fire resistance: our laminates are able to meet different fire-resistant levels depending on their thickness;
long lasting;
lightness and easy handling.
The last point is strictly related to the ease of installation of our products, as you can see in our user manual and installation video of GRP roofing sheets available on the YouTube Channel.
Different covering designs
Considering all their advantages, GRP roofing sheets are ideal for different applications. Agricultural and industrial uses are the main ones; however, our slabs can be used to realize a huge number of other DIY structures as well, like pergolas, verandas, tool sheds, fences and any type of covering.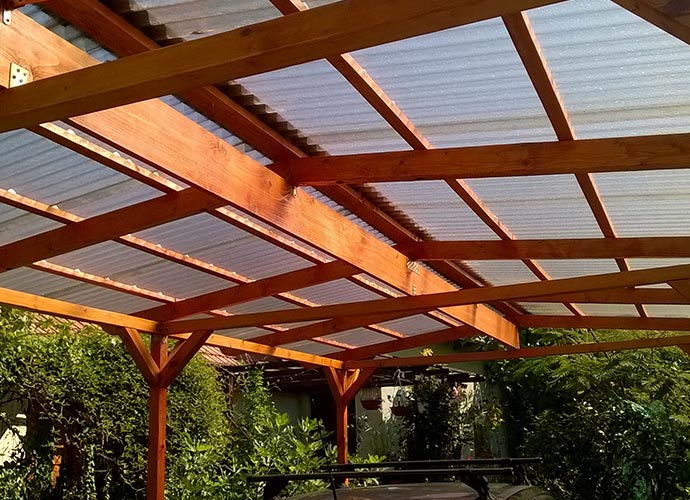 One of the agricultural applications of the translucent version of corrugated polyester sheets for roofing concerns single or double pitched greenhouses or tunnel greenhouses, since plants and flowers benefit from the high quality and uniform diffusion of natural light provided. Moreover, the great ease of maneuverability and the mechanical and climate conditions resistance make greenhouses durable and high-performance.
For the same reasons, all types of translucent sheets are also suitable to create skylights both in agricultural and industrial buildings.
On the other hand, what makes the opaque variation of GRP roofing sheets a convenient alternative to concrete and metal slabs for industrial buildings and agricultural structures, such as farms, stables or mushroom houses, is the combination of excellent manageability and high resistance to corrosion, caused by atmospheric or chemical aggressive conditions. However, when light points in industrial roofs are needed, curved corrugated translucent sheets are still an option.
Other insights on GRP sheets
Check out this section to get additional information about GRP roofing sheets, so you can choose the most suitable product for your needs.
Contact us for our products
If you are interested in GRP roofing sheets, do not hesitate to contact us for any request or suggestion. Brianza Plastica is willing to meet specific demands.
CONTACT US